Regular price
Sale price
$ 0.01 USD
Unit price
per
Sale
Sold out
"Murder Mystery" BYOB  Candle-Making Class
HOST a candle-making party... TO DIE FOR🔪
Find out who killed who in an EXCLUSIVE "Murder Mystery" BYOB candle-making party hosted at your home. If you're looking for an exciting and unique experience, then grab your favorite bottle of wine, your best friend and lets solve this MURDER. 
You'll be guided through 2 hours of candle making, games, drinking, giveaways and an amazing time. The best part? Once your candles have cooled, you'll be able to take them with you!
Invite the ladies over and enjoy wine, candles, games and giveaways!
ABOUT YOUR CANDLE PARTY
Private candle-making parties last 2 - 2 1/2 hours and candles will take about 45 minutes to 1 hour to solidify. While your candles are solidifying, someone is mysteriously MURDERED! We'll work together to find out who committed this 

heinous

 crime as you design your own custom label to finish off your candle creation. We'll also play interactive and competitive games, learn candle tips, listen to music and host giveaways!
PARTY INCLUDES:
2 to 2 1/2 Hours of Candle Making 

Candle Making Supplies, Including: Soy Wax, 2 (4 oz) Candle Tins, Cotton Wicks, Candle Dye + Fragrance Oils

Two Candles Per Person

1 "Murder Mystery" Character

Special Candle Labels to Customize

Dedicated Wax Instructor

Small Class Size

Candle Burning Tips to Encourage A Long Lasting Bold Scent!

Giveaways

Games

Don't forget to BYOB!
A TREAT FOR YOU!
As the party host, you'll receive a candle spa set which includes a candle, bath bomb, soap and bath salt.
PRICES
A 120-minute party on location (at your home), with 7 or more people is $30 per person with a $30 offsite travel fee. (Tables will be provided; however you are responsible for providing your own chairs.)

Additional 4 oz. candles can be made for $9.00 each.

Add bath salt or reed diffusers to your candle package for an extra $10 per person.
SHOP + SAVE
A 20% discount will be provided for all Gourmet Candle products on the day of your party.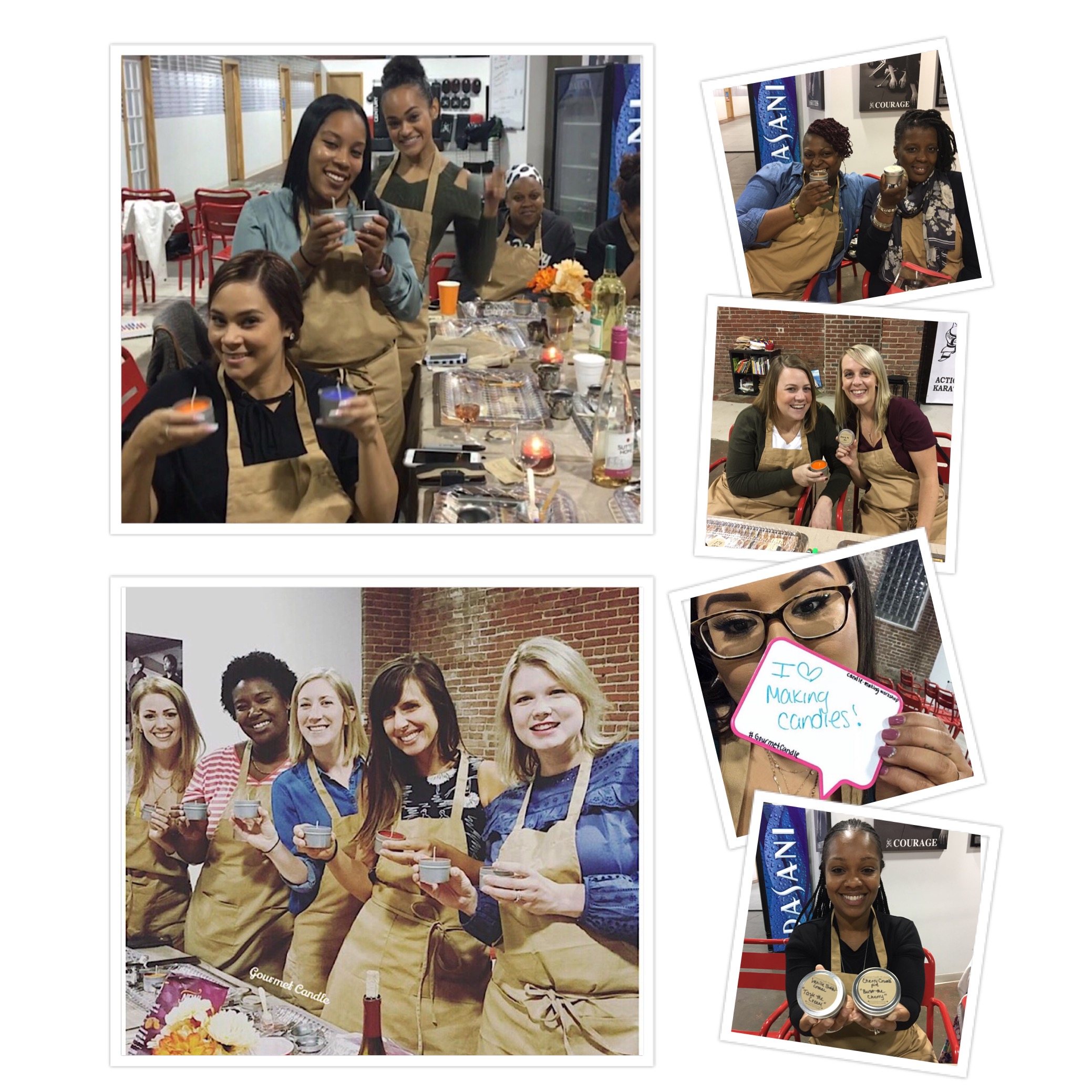 Theme:
Murder Mystery
In your party, we'll be working with an assortment of popular HOLIDAY scents to create a candle set consisting of 2 candles. Choose from a variety of scent options including:
Christmas Tree

Dickens Christmas

Candy Cane

Gingerbread House

Snickerdoodle Cookie

Apple Cider

Egg Nog

Cinnamon Buns

Fireside

Banana Nut Bread
View Upcoming Classes + Class Themes HERE
Check out some of the scents we'll be working with HERE

See what we've been working on in class HERE + HERE
Chillin' At The Studio
Candles require time to "set" before they can be taken home. They take between 30 minutes to 1 hour to set before you can take them home. You're welcome to hang around the studio chatting and enjoying wine, or grab a bite to eat at one of the yummy restaurants in Mt Airy while your candle sets. You can also have food delivered to the studio from the local restaurants or bring your own snacks. While your candle sets, you'll have the opportunity to enter 2 GIVEAWAYS as well as enjoy a few fun games and chat with your fellow candle-makers.
Candle-Making Safety
We practice and teach attendees safe handling of candle making during the course of the workshop. Gourmet Candle does not take responsibility for the mishandling of hot wax that may result in injuries on any level.
Reviews
"Awesome class! The candles smell amazing! I learned some great nuggets to take home. Emerald is a great teacher! This class is a great girls night out!!" -Laverne
"I absolutely loved this class it was sooo much fun and I learned so many different tips on making candles and burning them. I definitely will be attending all events going forward." -Davena
"Fun way to spend a Saturday night with friends! Emerald was informative, sweet, and super helpful! Highly recommended!" -Erika

"The class was very informative and in an intimate setting. I made two candles which were super easy. The scents are amazing. The instructor was very pleasant, and this was an awesome experience. I can't wait to make more." -Shamar
"Great way to spend time with friends and learn to make candles! Who doesn't love BYOB!? Emerald is very cheerful and it's a great price!" -Bridget
⭐️ ⭐️ ⭐️ ⭐️ ⭐️ More Reviews HERE
FAQs
What are my transportation/parking options for getting to and from the event?
Street parking may be available on West Mount Airy Avenue or Germantown Avenue.
What can I bring into the event?
All of the materials that you need for class are included in the price and will be available for you when you arrive. You're more than welcome to BYOB. There's a Wine & Spirit in Mt Airy
,

so you can always grab a bottle of your favorite wine there! You can also order food from a local restaurant and have it delivered if you'd like.
How can I contact the organizer with any questions?
You can reach me, Emerald via phone at (215) 439-5748 or via e-mail at Info@GourmetCandle.org.

Let's Exercise Safety!
Gourmet Candle Workshop Waiver of Liability:
This agreement releases Gourmet Candle from all liability relating to injuries that may occur during a candle-making workshop. By purchasing this Candle-making class ticket, I agree to hold Gourmet Candle entirely free from any liability, including financial responsibility for injuries incurred, regardless of whether injuries are caused by negligence. I also agree to hold Gourmet Candle entirely free from any liability, including financial responsibility for injuries incurred, regardless of whether the injuries were incurred off the premises of Gourmet Candle. I will also make every effort to obey safety precautions as explained to me verbally. I will ask for clarification when needed.
I also acknowledge the risks involved in participating in a candle-making workshop. These include, but are not limited to, the use of hot wax. I swear that I am participating voluntarily, and that all risks have been made clear to me. Additionally, I do not have any conditions that will increase my likelihood of experiencing injuries while engaging in this activity.
If I am to consume alcohol, I agree that I am over the age of 21 and will drink responsibly and do so at my own risk. I also swear that I have designated a driver or will call a taxi or responsible driver in the event that I am too impaired to drive.
By purchasing a ticket, you have acknowledged that you have read and agree to Gourmet Candle's Waiver of Liability and

 

forfeit all rights to bring a suit against Gourmet Candle for any reason. I also agree that I will not use any items created here for promotion of any other business that operates in the same capacity as Gourmet Candle.
Photo and Video Release
By purchasing a ticket, you have acknowledged and given rights to Gourmet Candle's employee usage of any photos taken during the event. Event photography is used for promotional, digital, print and social media marketing. By entering the event premises, you consent to photography, audio recording, video recording and its/their release, publication, exhibition, or reproduction to be used for news, web casts, promotional purposes, telecasts, advertising, inclusion on websites, social media, or any other purpose by Gourmet Candle and its and representatives. Images, photos and/or videos may be used to promote similar events in the future, highlight the event.
You release Gourmet Candle, its officers and employees and each and all persons involved from any liability connected with the taking, recording, digitizing, or publication and use of interviews, photographs, computer images, video and/or or sound recordings. By entering the event premises, you waive all rights you may have to any claims for payment or royalties in connection with any use, exhibition, streaming, webcasting, televising, or other publication of these materials, regardless of the purpose or sponsoring of such use, exhibiting, broadcasting, web casting, or other publication irrespective of whether a fee for admission or sponsorship is charged. You also waive any right to inspect or approve any photo, video, or audio recording taken by Gourmet Candle or the person or entity designated to do so by Gourmet Candle. You have been fully informed of your consent, waiver of liability, and release before entering the event.
Refund Policy + Transfer Policy
Things happen. Plans change. We get that. If life throws you a curveball, we won't throw back a penalty. However, classes tend to fill and often have a waitlist. Due to limited seating for our candle -making classes, Gourmet Candle workshops/classes are non refundable once you have paid and registered for your class. However, we want focus on all the good to come and not on feeling let down. We'd be happy to gift/transfer your ticket to a friend or relative. Transfers are available prior to your registered class. Tickets cannot be transferred after your registered class has passed. If you have purchased a ticket/voucher through a third party (Groupon, etc.) and register for a class, but do not attend the class that you registered for, you will not be refunded and your voucher will be classified as redeemed for your registered class.

To host a private candle-making party in your home or at a location of your choice, click HERE or email at Info@GourmetCandle.org.
Materials

100% Soy Wax
Cotton Wicks
Phthalate-Free Fragrance Oil
Essential Oil
Shipping & Returns

In stock/ seasonal items are usually shipped within 7 business days. Out-of-season/novelty items may take longer to ship as items are based on availability and are made-to-order.

Subscription boxes are shipped monthly after the 15th of each month.

Order inquiries may be sent to Info@GourmetCandle.org.

Returns must be shipped within 14 days of delivery receipt and are subjected to a 20% restocking fee. Refunds will be processed for returned orders of undamaged, unburned candles.
Dimensions

4 oz Candle Tins: 2.75"x2"
8 oz Candle Tins: 3.5"x2.25"
16 oz Candle Tins: 5.5"x2.25"
8 oz Candle Jars: 2.48"x3.54
Candle Pies in Box: 6"x6"x2"
Care Instructions

To maximize the life of your candles, keep wicks trimmed to 1/4 inch. Burn 3-4 hours per use. The fragrance of the candle is released when the wax is melted and pools across the surface of the candle. Please keep away from children and pets.
FAQ

FAQ: "ARE YOUR CANDLES STRONGLY SCENTED?"

Each floor plan for each home produces different results. Most get GREAT results with 1 candle (in medium 15 x 15 ft. to smaller rooms), while others need 2 candles. Understand that it is more difficult to fill open floor plan homes since the scent has to continue to travel and as the scent spreads over large areas it will get less intense. An average room with walls will keep the scent inside and of course create a more intense, strong scent.
Soy Candles Benefits

Each soy candle is eco-friendly and made with GMO free soy beans. Soy candles burn cleaner with less soot and burn longer than traditional paraffin candles. Soy candles are also very easy to clean up with soap and water if spilled. The candle tins may be cleaned out and either recycled or reused after the candle has completely burned out.
Candle Burn Time

4 oz Candle Tins: Up to 32 Hours
8 oz Candle Tins: Up to 50 Hours
16 oz Candle Tins: Up to 85 Hours
8 oz Candle Jars: Up to 50 Hours
Candle Pies in Box: Up to 50 Hours
Tell your FRIENDS!
View full details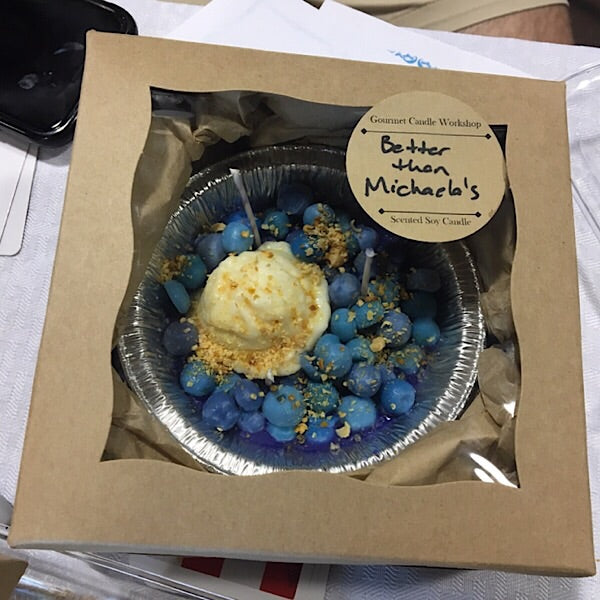 Free Shipping

Free U.S. Shipping for all order over $50. Offer excludes wholesale/bulk and custom orders.